Spring is (almost) here, and along with a new season comes new fashion trends! With so many trends it's tough to pick and choose favourites, so let us do some of the work for you. Below are 10 fashion trends we'll be seeing for spring (according to Vogue & Who What Wear), 5 of which I'm on board with and 5 I'm nottt so sure about. Welcome to the first edition of Love it or Leave it! 
1. What's the Vibe?
With leather pieces and Y2K grunge still showing up for spring along with the classics; pastels, lace, and ruffles, there's an interesting contrast going on between the two. The two big contenders of these opposing sides are Moto-inspired pieces and lots of lace in babydoll silhouettes.
Love it: Moto Inspired 
My favourite 'trends' are where classic pieces that never go entirely out of style come back around. Moto-inspired leather is one of those trends! Jackets, bags, boots, all pieces that will last and you can wear them time and time again. This trend is also extremely Manitoba friendly, as the oversized fits of moto jackets leave plenty of room for added layers.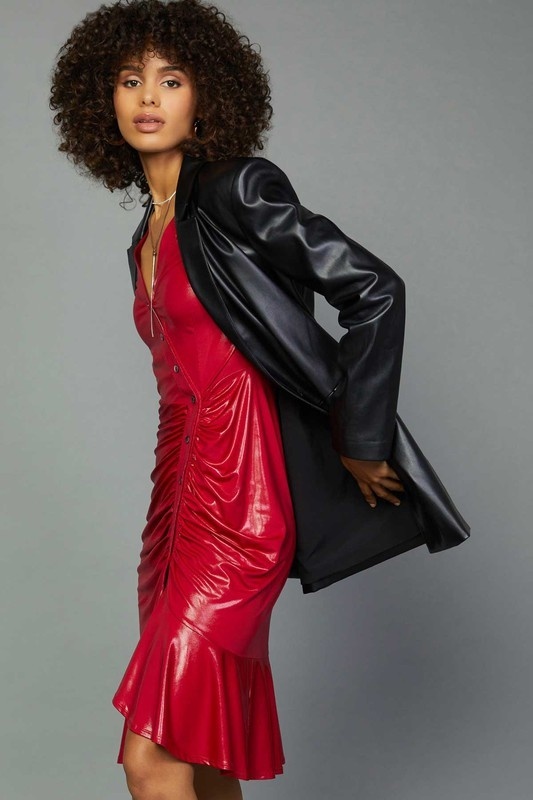 find it at Style Bar: the Stevie Leather Blazer
Leave it: Babydoll Silhouette
Lace is stereotypically springy, and while I love a little hint here and there, a pouffy lace dress is a lot. And certainly not the most wearable piece for a Manitoba spring. 
2. Colour Me Impressed
This season, let your wardrobe match the weather! Spring means new growth and refreshed vibrant colours! Brights, along with the classic pastels, were all over the runway, and with so many trending colours, its easy to find your perfect one! 
Leave it: Pastels
Classic? of course! expected? almost definitely! There's nothing wrong with a classic, but it's fun to change it up every now and again, and with life going back to normal, now seems as good a time as any.
Love it: Brights
I love the switch up this year of seeing so many bright colours coming in! We saw this in the fall when bright pinks were everywhere, and now so many more have joined! saffron, cobalt, and key lime to name a few, along with the classic bright white. Adding a pop of bright colour to an outfit does a lot of the work for you since keeping the rest of the look more minimal allows that bright piece to truly pop!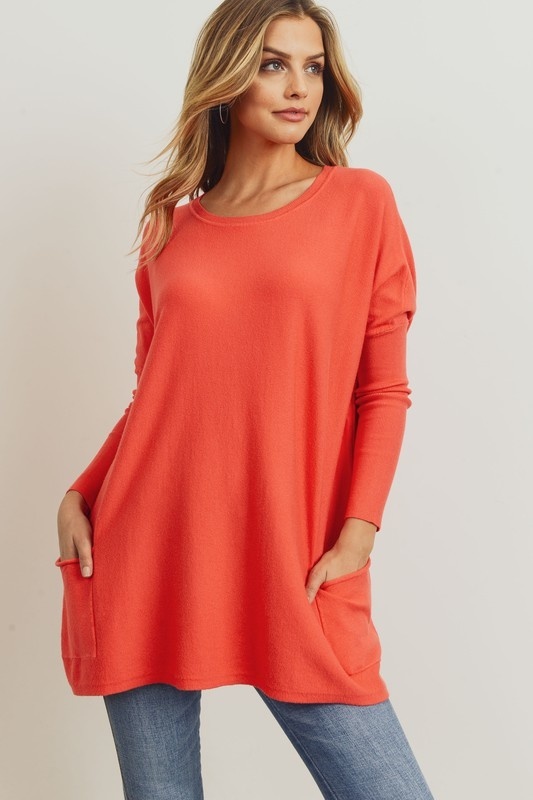 find it at Style Bar: Jessa Pocket Top
3. Show Some Skin
As the spring temperatures start to come in, we can finally shed our thick winter layers, and replace them with slightly thinner spring ones. Chiffon fabrics, thinner tops, looser knits and more graced the runways for spring. 
Love it: Woven pieces
Mesh and crochet pieces were all over the spring runways, and I personally love this trend, especially the crochet pieces! The perfect in-between, crochet knits are typically looser and lighter weight, but still offer that little bit of warmth we need in the spring. It's an easy way to add texture to an outfit, and a fun way to play with layering!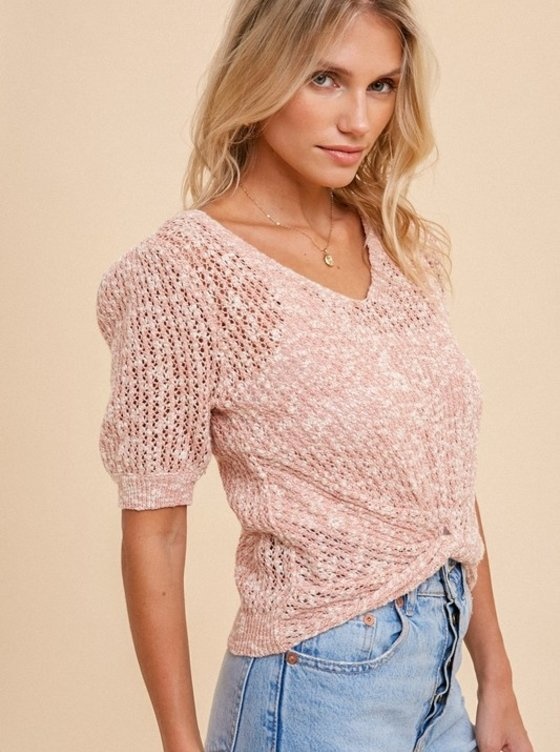 find it at Style Bar: Zoe Twist Sweater
Leave it: Boudoir Inspired
Along with lighter weight fabrics came less fabric altogether. Corset detailing was all over the runways in the fall, and we're seeing this trend continue but with more springy touches. Bustier tops and silky triangle bralettes in lighter pastel colours and lace details. I'm all for wearing a bra as a shirt and calling it a day, but it isn't going to cut it in terms of warmth.
4. Liven it Up
The runways were full of prints, patterns, and fun fabrics! Some, of course, are more wearable than others, but it's so fun to see all the colours come out to play.
Love it: Floral print
Florals? for spring?... groundbreaking.
Did I pick this trend purely to use that line?...potentially. I know I said earlier that I was letting go of the classic pastel, and it can absolutely be argued that floral is just as much a spring classic, but since there are so many ways to do floral print, it has to reign supreme.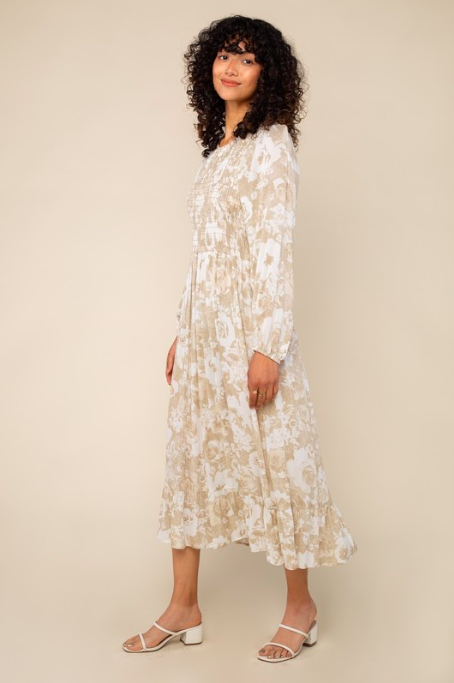 find it at Style Bar: Waverly Midi Dress
Leave it: Metallic hits
Another fabric seen all over the runway was metallics. In almost every clothing piece you can think of, someone did a metallic version. It's definitely fun, and something different, but it also feels like it won't last. 
5. Keep Your Pants On
We're seeing the trend of good, staple basic pieces from the fall continuing on into spring. Another "trend that isn't really a trend" coming back around, which I love to see. This time around, however, there's some variation. Tons of different styles and cuts of trousers are coming in, whereas, in the fall, the wide leg ruled them all. Additionally, we're seeing a lot of added details to denim, which Im less sure about.
Love it: Trousers
You can never go wrong with a good pair of trousers. A wardrobe staple that's easy to style and keeps you feeling put together without putting in much effort. With so many more styles coming in this season, you'll have no trouble finding your perfect fit.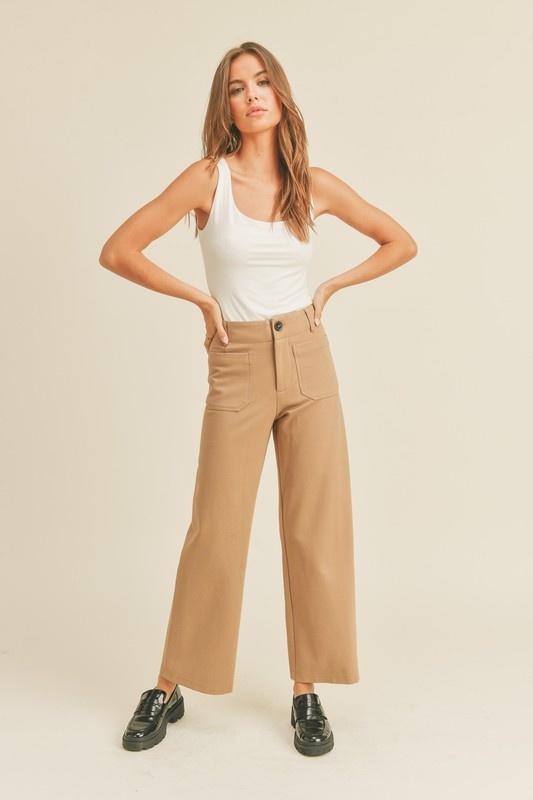 find it at Style Bar: Tesia Wide Leg Pant
Leave it: Done Up Denim
From lace-up details to added ties, denim appears to be getting a makeover for spring, but is it really necessary? To me, you buy jeans to last you until you wear them out completely. Adding all the bells and whistles makes what would otherwise be a timeless piece trendy and drastically reduces its wearability. There are tons of other ways to zhuzh up your wardrobe for spring!
___________________________________________________________________________________
Did you agree with our picks? Let us know! We hope you loved this first edition of Love It or Leave It, and we'll be back with another one soon!